Have you ever gone to Milwaukee for the antique hunt? We promise it's worth it! Aside from its popularity around baseball, Michigan lake, breweries, and famous brewers Milwaukee is known for its rich cultural and historical heritage, decorated and flattered with various historical monuments and classical cultural buildings. That's exactly what made it stand out to many collectors that know that those rustic houses hide some of the best antique stores in the USA.
That being said, Milwaukee is a great place to visit on a weekend trip if you want to explore its historical and cultural monuments and learn more about how this city developed throughout the last centuries. But, if you're a collector who doesn't know whether it's worth it to visit Milwaukee, don't worry.
Thanks to its various monuments worth visiting, many authentic antique sellers make it their priority to always get the most authentic and unique items to the store, as new visitors emerge every day and add some authentic Milwaukee artifacts to their antique and vintage collection.
People come through the week, although many prefer to crash during the weekend and enjoy authentic and delicious food while exploring flea markets, antique stores hidden in warehouses, and much more. One thing is for sure, however, Milwaukee is worth visiting if you are an antique junkie and can spend hours browsing different old items and revisiting the ways people lived in the old times.
That's why we compiled this ultimate list of the best antique stores in Milwaukee that are worth visiting. Additionally, here's a guide that will help you learn more about the items being sold in Milwaukee and how they can contribute to your collection.
Continue reading this compelling and detailed guide and we can guarantee you that you'll find something you will find worth coming to the best antique stores in Milwaukee.
Most Popular Antique Stores in Milwaukee
There's no doubt that Milwaukee is the antique jewel of Wisconsin, and even though it only hosts about 500,000 citizens, the antique heritage stretches much beyond that, so you'll be able to discover different antique stores in this city and learn what makes each of them more special compared to the competition.
Antiques on Pierce
Located in the old building of the Quality Biscuit Company facility, Antiques on Pierce knows how to create an authentic antique and vintage ambiance and appease customers from different states that come to explore and learn more about their inventory.
Interestingly, the store stretches to more than 90,000 square feet, distributed across three floors. There are about 200 antique dealers who specialize in different types of items stretching from different vintage toys and collectibles, posters, pictures, and paintings, to old furniture made out of oak, cutlery, bags, fashion ornaments, jewelry, fabric, and much more. The staff is also quite courteous and willing to help you with all the issues you may have.
Although many people prefer to come and window browse themselves, learning more about the collectibles they're looking for, it feels kind of comforting to know that the company also organizes shipping to your desired address in case you decide to buy something from the get-go.
It's also worth noting that the antique market is also equipped with a website, which isn't quite decorated and updated, and social media where new arrivals are regularly updated. Some people have a problem with prices, as they are higher compared to other antique dealers.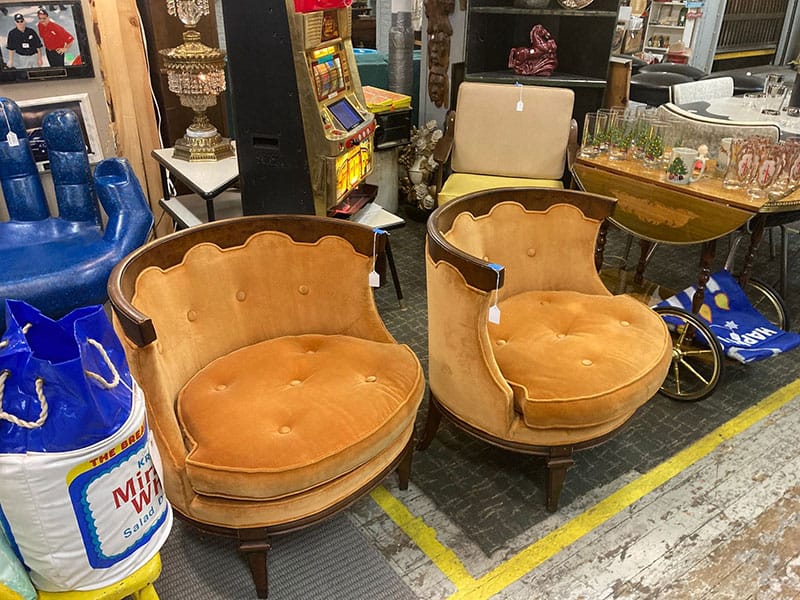 Antique Center-Walker's Point
Antique Center-Walker's Point is another popular gathering place for everyone who appreciates fine antique art and loves to revisit old items and learn more about how people behaved and what type of items they consumed before consumerism.
Unfortunately, even though it's located at the relative center of Milwaukee, there is no website you can visit or Instagram account where the products and new arrivals, as well as the information on sales and garage sales, are listed. The Facebook page isn't quite updated either, but you'll find some cutlery and glassware which is quite a popular type of items that you can find in this store.
There you can find vintage toys, albums, coloring books, picture albums, vinyl records, photos, and much more. The older items are more prominent whatsoever, so you're expected to find large paintings, sculptures, vinyl-covered chairs, rocking chairs, tables, cabinets, and much more.
This antique store will make your visit to Milwaukee worth it because even though it doesn't have a prominent online presence, its items are incredibly valuable. The antique dealers working in this store are helpful, courteous, and knowledgeable. They'll also provide care tips and recommend similar products in case what you're looking for is not in their offer.
Riverview Antique Market
Riverview market, as its name suggests, is located by the river in Milwaukee and creates an amazing view for everyone shopping for antiques. It's easy to locate thanks to the big glass door and the 2045 writing sign on top of the door. It's a popular antique store, mostly because of the amazing offer and positive energy and ambiance that stretches through the market.
The store is equipped with a smaller website that offers the most basic information and an entirely empty Instagram account, which isn't even active. If you're looking to come to Milwaukee just for this store, this review and a few other customer reviews are your best bet.
You will find a large offer of products distributed across the market. There are a lot of small items like old TVs from the '40s, radios and music players, photographs, gramophones, vinyl records, and much more.
On the other hand, you'll find old antique vases, cutlery, paintings, lamps, textured sofas, sculptures, and other sensitive items in a flawless state. There are a lot of authentic items which just adds up to the invaluable collection of items offered in this store.
Finally, the sellers are quite helpful and know how to recommend the items customers are looking for. With a few negotiating skills and a smile on your face, you're guaranteed to make a good deal for your collection.
Farm Girl Art and Antiques
If you're a fan of the cottagecore aesthetic and want to decorate your home similarly, this place in Milwaukee is the right destination for you. Farm Girl Art and Antiques is a place where you'll find a lot of artistic work inspired by the vintage era and last century, but it's also an antique store of the sort where you can find all sorts of different things, mostly revolving around the art.
The farm shop isn't equipped with any kind of website, which can make it a bit more difficult to navigate and learn more about the type of collectibles that can be found there. Nevertheless, the Instagram page of the store is in very good and well-maintained condition so you can see frequent updates to the inventory on the farm.
Out of all products we've seen a lot of vases with woven intricate designs, decorative bottles, dolls, glasses, plants, and much more. There are also statues of deer and many other animals, Christmas and Halloween decorations, baby dolls that are made with impeccable detail some dating to the early 20th century, and much more.
Clocktower Antiques
Clocktower Antiques is located at the heart of Milwaukee and contains everything that a loyal antique item collector would come to hunt for. It is also equipped with a cool website that boasts all the necessary information you may need about the store, like how to get there, who owns it, and what kind of items to expect there.
You can also learn a lot from its social media account on Instagram, where they regularly post new content and videos, as well as inform visitors about recent garage sales and activities. There are a lot of things to be explored at this store, so it's important to dedicate a few hours once you visit Milwaukee to keep track of all the cool places worth visiting.
With that in mind, you can expect to find various pieces of furniture from the 19th century, including wooden cabinets with a polished finish or intricate carvings that were commonly found on wardrobes, tables, chairs, and other objects among wealthy people. Aside from the furniture, you can also find paintings and photographs, vases, cutlery, car plates, flags, medals of honor, and many other accessories.
The staff is very knowledgeable and they won't shy away from starting a conversation and educating you on the things they want to sell. They also have great prices, so there's no chance you'll leave empty-handed once you visit this antique store.
Good Land Antiques
If you're looking to learn more about ancestry through furniture, décor, and accessories, then Good Land Antiques is a place you will have to visit in Milwaukee. It may not be that easy to find it, but luckily, the navigation has gone a long way and you won't regret it.
Although the key information like the website is missing, we can't ignore how aesthetically pleasing the Instagram page of Good Land Antiques looks. It's as if you're visiting a completely different world, that takes you back at least one century back and presents you with all the items that made everyday life essential.
You will find regular polished oak furniture like dinner sets (tables and chairs) some of them have sewn-in cushions while some are completely textured and carved. There are smaller tables, nightstands, cabinets, and wardrobes. When it comes to the décor, you'll find goblets, cutlery, paintings, small shelves, storage boxes, jewelry boxes, jewelry, fashion ornaments, and other interesting items that may make it to your collection.
The staff is courteous and helpful. They'll recommend you the closest items to what you're looking for and will even give you a good discount if you will purchase more than two items.
Strack's Antiques
Strack's Antiques has an offer that is different compared to the antique offered by other stores in Milwaukee. Nevertheless, it's an exciting place to visit and you never know, perhaps you'll discover a passion for a new collectible that you'll start collecting.
They have a strong online presence, so you can get all the necessary information about the store, their current offers, and actions on their website, as well as on social media. That way you can plan your trip out more carefully, and enjoy it to the fullest in the process.
When it comes to the offer within the store, you can find old heaters, intricately designed cauldrons, wooden furniture like chairs, tables, shelves, and drawers, and a lot of décor items like sculptures, candle holders, goblets, cash registers, pots, paintings and more.
The offer of vintage things is also very strong, so you will find dolls, other stuffed animals, medals, vinyl records, card decks, photographs, old cameras, and many other different things worth exploring. The staff is friendly and won't hesitate from helping you find exactly what you're looking for.
Albella Bargain Store
Albella Bargain Store isn't your typical antique store, but rather a vintage store that specializes in pop culture. There you will find action figures of famous cartoon characters, costumes, masks, and many other items that may cheer up your inner child.
Although they don't have a website, most of their collection is presented via an Instagram page, and there you can find all sorts of information about current offers, new arrival, and planned garage sales. This is a haven for people who collect action figures, children's card games, board games, shirts and costumes, and of course, dolls.
That being said, out of all offers, action figures mainly represent Marvel and DC heroes such as Ironman, and Spiderman, as well as Batman and Superman, power rangers, ninja turtles, Naruto characters, and more. There is also a large selection of plushy toys like teddy bears, of which some are known to be around 100 years old. There are also baby dolls, as well as Barbie, Bratz, and My Scene dolls.
The staff is friendly and will carefully listen to any inquiry you may have. They will recommend the best products for your needs and intentions, but you will probably have to spend some hours there to explore the entire selection of toys.
BC Modern
Brew City Modern is a place that screams mid-century modern, and your visit to Milwaukee simply can't go without visiting this antique store. It's important to note that this vintage and antique store once won an award for the best vintage store in Wisconsin, so that's just another reason to visit it.
It has a minimalistic website where you can learn about the offer that the store has, as well as what to expect once you visit it. There is also an Instagram account where new items are regularly added, and sorted into different collections for collectors to easily spot what they're looking for in the sea of different collectibles.
When it comes to the overall offer, it's of impeccable quality. You will find some nice, well-preserved, mid-century furniture from the USA, Europe, and Asia. You're expected to find cabinets, drawers, shelves, tables, chairs, and other types of wooden furniture.
The store is well-equipped with long and short curtains and rugs with original and detailed textures, amazing glassware, cutlery, porcelain, paintings, sculptures, pots, and other home décor. There are also various fashion ornaments and jewelry, as well as vintage dresses that were worn throughout the 20th century.
The staff will always come to aid you and give great recommendations. Amazingly, prices are good too, so you can enjoy shopping for quality antique collectibles without breaking the bank.
Types of Items Found in Milwaukee
Even though at first sight Milwaukee may not be the biggest antique capital to visit in the United States, you must agree that the furniture and décor you'll find there will make every collector's heart race. But, what type of items can be found there? Check out below!
Furniture: Wooden cabinets, different types of chairs, wardrobes, tables, nightstands, rugs, and much more. Appliances like ice boxes are also quite popular.
Toys: There are multiple shops that are focused mainly on toys that are worth visiting including stuffed toys, Barbie dolls, baby dolls, and more.
Cutlery & Glassware: Glasses, dining sets, plates, bowls, cups, mugs, and much more
Gardening items: There is a wide selection of tools for gardening and garden décor
Paintings: Impressionism, classical, landscape, and many other types of paintings can be found
Books: Different book editions also appear on various shelves
Clocks: Clocks and pocket watches are quite popular in Milwaukee.
Things to Focus on When Antique Shopping in Milwaukee
If you're new to antique hunting abroad, here is a list of things you should focus on when shopping.
Quality
When visiting different antique stores, you will be greeted by varying quality of the items you want to buy. Some items will be in impeccable condition despite the fact it's more than 200 years old. On the other hand, some vintage and relatively recent items may be in poor condition.
What's important is that you'll have to be able to recognize the difference between a poor-quality item and a good-quality item, which is oftentimes not easy.
Authenticity
Not all items will be authentic and unique. Some dealers like to recreate certain items like chairs, tables, nightstands, and shelves on demand if they do provide such services. Still, it's important to let you know if they did recreate the item. Original items often have manufacturing labels or some other label that will distinguish the original from a copy. However, sometimes they may be too difficult to be spotted.
Prices
When you're visiting an open antique market, you will see that not all collectibles will have a fixed price. That's because there's room for negotiation and bargaining. In independent stores, most items will have fixed prices that will not be eligible for negotiations unless you're purchasing more than one item.
That is a great matter depending on the policy of a store but most antique dealers will make sure to give you good prices. Keep in mind that some items in different antique stores have different prices, so if you're looking for specific items, make sure to keep track of the prices and choose the item with the best price.
Sometimes, it's a good idea to take an appraiser with you so that they can help you choose the best prices for items. Many of them know how to communicate and negotiate prices which is good for people who are new to antique hunting and shopping.